Archives by Date:
Archives by Subject:
March 15, 2010
Skloot and The Immortal Life of Henrietta Lacks in The Root
An interview with Rebecca Skloot about The Immortal Life of Henrietta Lacks is now online at The Root, which also features a review of her book that says, among other things:
The Immortal Life is easily the best evidence I have read to date supporting this truth: Without Skloot's expansive documentation and clear descriptions of the relatively new field of cell research, the historic nature of Henrietta Lacks' contribution to science wouldn't have the same powerful impact. And without the fulsome history of Henrietta Lacks' family—including her forbearers, and her offspring and their offspring—the hidden-in-plain-sight role that science and medicine have played in black subjugation, and its insidious fallout on generation after generation, would remain offstage.
Named by more than 60 critics as one of the best books of 2010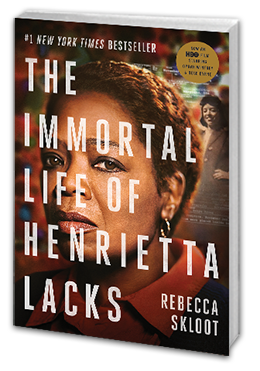 Buy the Book
Learn More
The Henrietta Lacks Foundation strives to provide financial assistance to needy individuals who have made important contributions to scientific research without their knowledge or consent.