Archives by Date:
Archives by Subject:
March 15, 2010
Science Magazine Rave Review of The Immortal Life of Henrietta Lacks
A wonderful rave review of The Immortal Life of Henrietta Lacks has come out in Science Magazine. It's available online (subscription required) here, but for non-subscribers, here are some highlights:
"It is hard to imagine a scientist who hasn't heard of HeLa cells. Rapidly reproducing and amazingly robust, these cervical cancer cells have become indispensable in modern biomedical research. Their nearly ubiquitous cell line has been used in innumerable experiments that required a human cell culture. It has served in work ranging from the creation of a polio vaccine, to the development of leukemia treatments, to discoveries in cloning and gene mapping. Despite the vast amounts of scientific data on HeLa, most people know very little about the cells' origin. Obviously they came from a woman, but who was she?

HeLa, from the initial letters of the donor's first and last names, provides a small clue. Commonly reported as Helen Larson or Helen Lane, her actual name was Henrietta Lacks. But just knowing her name does not tell us that she was poor, that she was black, or that she was largely uneducated. It does not tell us how she died, moaning in agony, in the free ward of Johns Hopkins Hospital in 1951, when she was barely 31 years old, leaving behind five children. Nor does it tell us how her cells were taken without her knowledge and without her consent.

Rebecca Skloot's The Immortal Life of Henrietta Lacks does tell us all these things—and more. It gives us Henrietta's life, laid out like a cell under a microscope. And like any good scientific research, this beautifully crafted and painstakingly researched book raises nearly as many questions as it answers: questions about ethics, racism, and, most importantly, humanity.

… In a time when it's fashion- able to demonize scientists, Skloot generously does not pin any sins to the lapels of the researchers. She just lets them be human … Skloot challenges much of what we believe of ethics, tissue ownership, and humanity … Thanks to the author's narrative skills, it is a tale that one experiences rather than reads."
Named by more than 60 critics as one of the best books of 2010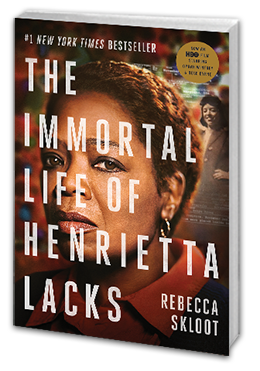 Buy the Book
Learn More
The Henrietta Lacks Foundation strives to provide financial assistance to needy individuals who have made important contributions to scientific research without their knowledge or consent.