Archives by Date:
Archives by Subject:
February 12, 2010
Immortal Cells; Moral Issues
Today's Baltimore Sun features a great OpEd by Ruth Faden, director of the bioethics institute at Johns Hopkins, exploring the ethical and moral issues raised by The Immortal Life of Henrietta Lacks, and its relevance to the current debate over health care reform. In it she says, among other things:
… Henrietta Lacks story touches the very heart of the
current debate over health care reform, and the need for universal
coverage and access to care. Her tale, like health care reform and the
ethics of biomedical science, is tied up in how the least of us live.

We need a national conversation about more than health care costs and
cost shifting. We need one about the ethical foundations of access to
care and their relationship to biomedical science — and what is the
right thing to do. It is to be hoped that the newly appointed
Presidential Commission for the Study of Bioethical Issues will get
that conversation going.

Meanwhile, the saga of Henrietta Lacks tells us that without genuine
health care reform, her scientific legacy will forever overshadow her
human one.
Click here for full OpEd.
14 Responses to "Immortal Cells; Moral Issues"
Named by more than 60 critics as one of the best books of 2010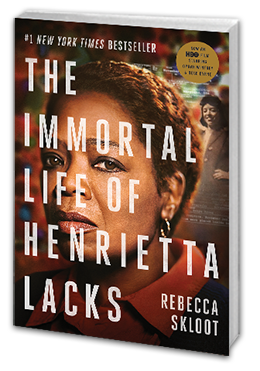 Buy the Book
Learn More
The Henrietta Lacks Foundation strives to provide financial assistance to needy individuals who have made important contributions to scientific research without their knowledge or consent.