Archives by Date:
Archives by Subject:
January 8, 2010
The Immortal Life of Henrietta Lacks Gets Starred Kirkus Review
Much to the dismay of those in publishing world, Kirkus magazine recently announced that it was going out of business.  In what was to be their final issue, Kirkus published this rave starred review of The Immortal Life of Henrietta Lacks. Soon after, Kirkus announced that it would not, in fact, be going out of business after all. For that news, and this review, we are grateful:
A dense, absorbing investigation into the medical community's exploitation of a dying woman and her family's struggle to salvage truth and dignity decades later.In a well-paced, vibrant narrative, Popular Science contributor and Culture Dish blogger Skloot (Creative Writing/Univ. of Memphis) demonstrates that for every human cell put under a microscope, a complex life story is inexorably attached, to which doctors, researchers and laboratories have often been woefully insensitive and unaccountable. In 1951, Henrietta Lacks, an African-American mother of five, was diagnosed with what proved to be a fatal form of cervical cancer. At Johns Hopkins, the doctors harvested cells from her cervix without her permission and distributed them to labs around the globe, where they were multiplied and used for a diverse array of treatments. Known as HeLa cells, they became one of the world's most ubiquitous sources for medical research of everything from hormones, steroids and vitamins to gene mapping, in vitro fertilization, even the polio vaccine—all without the knowledge, must less consent, of the Lacks family. Skloot spent a decade interviewing every relative of Lacks she could find, excavating difficult memories and long-simmering outrage that had lay dormant since their loved one's sorrowful demise. Equal parts intimate biography and brutal clinical reportage, Skloot's graceful narrative adeptly navigates the wrenching Lack family recollections and the sobering, overarching realities of poverty and pre–civil-rights racism. The author's style is matched by a methodical scientific rigor and manifest expertise in the field.

Skloot's meticulous, riveting account strikes a humanistic balance between sociological history, venerable portraiture and Petri dish politics.

– Kirkus (Starred review)
Named by more than 60 critics as one of the best books of 2010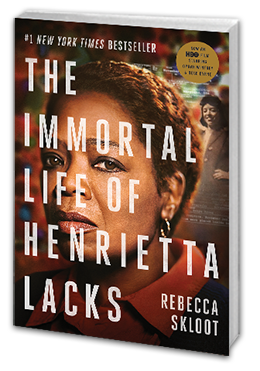 Buy the Book
Learn More
The Henrietta Lacks Foundation strives to provide financial assistance to needy individuals who have made important contributions to scientific research without their knowledge or consent.