Archives by Date:
Archives by Subject:
December 23, 2009
LA Times names Rebecca Skloot as one of their "Faces to Watch in 2010"
Today's Los Angeles Times features Rebecca Skloot as one of their four Faces to Watch in 2010, saying:
When Rebecca Skloot was a high school student, she learned about HeLa cells, the first human cells to be successfully reproduced in a lab. They'd become the standard for medical research, classrooms, even in space — and they came from somewhere. Rather, from someone: Henrietta Lacks, a poor African American mother of four, or more accurately from the cancer that took her life. The story stuck with Skloot — who grew up to be a science journalist — and now centers her February book "The Immortal Life of Henrietta Lacks" (Crown: 368 pp., $26), which explores the unknown story of Lacks, her cells and the family she left behind. Skloot's emotional connection to Lacks' adult children, some of whom can't afford the medicine their mother's cells helped develop, makes this a work of both heart and mind, driven by the author's passion for the story, which is as endlessly renewable as HeLa cells.
– Carolyn Kellogg
Named by more than 60 critics as one of the best books of 2010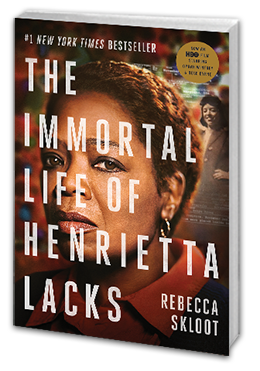 Buy the Book
Learn More
The Henrietta Lacks Foundation strives to provide financial assistance to needy individuals who have made important contributions to scientific research without their knowledge or consent.