Archives by Date:
Archives by Subject:
October 29, 2009
The Immortal Life of Henrietta Lacks Book Tour – Bring HeLa to Your Town
Lots of excitement and news about my book, The Immortal Life of Henrietta Lacks (aka HeLa),
which hits stores February 2nd (after ten years in the works). It just got a starred review in Publishers Weekly and in Booklist, and was chosen as a Barnes & Noble Discover Great New Writers title for Spring 2010. Culture Dish is very excited about all of this. But the big news for this post is that I'm organizing a three-month-long book tour that will have me speaking nationwide at
universities, scientific organizations, bookstores, book groups, high schools, and
more. If you'd like me to speak about the book, about HeLa, the history and ethics of tissue culture, race and medicine, or any number of other related topics, see the Immortal Life's interactive book tour map below. Click
on your region to see when I'm scheduled to be in your area, and email me to bring The Immortal Life to your town.
The Immortal Book Tour is a grass-roots, author-funded tour on a scale that no sane publishing house would or could organize or fund. (For those not familiar with the publishing industry, see here for the New Yorker's humorous take on why this sort of thing is necessary). Crazy as it may be, I'm convinced it will be a fun and effective way to spread the word about this book — and honestly, after ten years of working on it solo, I'm ready to go talk about it with everyone I can. I admit, I've imagined touring in one of these with cells painted all over it, but at this point, due to budget constraints, I may be touring in one of these. This tour will depend entirely on and funding from talks at universities and other venues, so locations able
to help cover expenses get priority (and many, many thanks), but I'm also looking to hear from bookstores and other organizations in towns I'll be visiting, where I'll gladly speak if I'm able to get myself there. Interactive book tour map and link for below the jump (and if you're interested in having me speak at a date after the tour, that works too: my schedule for summer and fall is wide open at this point):
MAP KEY:
* Purple dots = officially scheduled events
* Question marks = places along Skloot's route where she hopes people will help organize events, but where there are no official events yet. Anyone in those locations interested in helping to organize an event should email Skloot.
*A lack of question mark or purple dot does not mean Skloot won't visit. If your city isn't marked on the map and you'd like to help
organize an event, get in touch.
Note: The map may take a few seconds to load. If your region isn't showing up in the frame below, click the map and drag from side to side like a regular Google Map to find your location.

View The Immortal Life of Henrietta Lacks Book Tour in a larger map
3 Responses to "The Immortal Life of Henrietta Lacks Book Tour – Bring HeLa to Your Town"
Named by more than 60 critics as one of the best books of 2010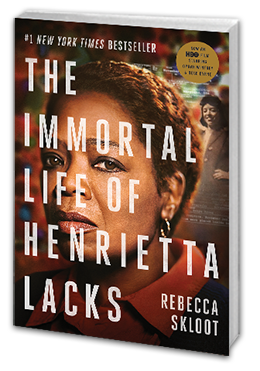 Buy the Book
Learn More
The Henrietta Lacks Foundation strives to provide financial assistance to needy individuals who have made important contributions to scientific research without their knowledge or consent.