Archives by Date:
Archives by Subject:
May 3, 2009
Just in Time for Swine Flu season: Designer Respirator Masks!
Yes, that's right folks, the end of the world is near, but at least we won't look silly wearing our N95 respirator masks. No. Thanks to Flu Fashion Respirators, we can now avoid swine flu and other plagues while looking like … bandits from cheesy western movies! Or … better yet … hippie bandits! And we can even get designer swine flu respirator masks for the family dog (never mind that dogs can't get the swine flu — we wouldn't want them to feel left out). What could possibly go better with an over-hyped pandemic threat than
fashion accessories? This press release speaks for itself:
FOR IMMEDIATE RELEASE – New Swine Flu Protection Product
Look Great, Breath Easier and Protect Yourself in Style with New FLU Fashion Respirators
New! Just in time for Swine FLU season. Now you can look great and breathe the air with maximum protection. Don't count on cheap disposable masks to protect you against the swine flu. The best available protection in a face respirator comes from the unique newly designed high fashion NIOSH Surgical N95 Particulate Respirators (Masks) which uphold a filtration level and fluid resistance universally recognized in the prevention of the inhalation of airborne microorganisms.
FLU FASHION Respirator Masks add style, form and N95 function in one easy product. FLU Fashion Respirators come in a set of 3 with an assortment of bright patterns and solid colors.
In-studio live, on camera demonstrations (with Jay Ginsberg and his wife Lesley along with the dog Solomon) available on request
18 Responses to "Just in Time for Swine Flu season: Designer Respirator Masks!"
Named by more than 60 critics as one of the best books of 2010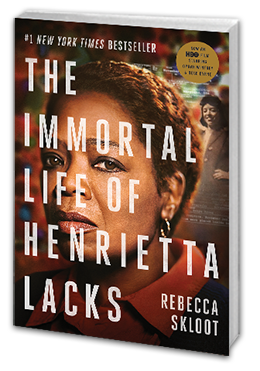 Buy the Book
Learn More
The Henrietta Lacks Foundation strives to provide financial assistance to needy individuals who have made important contributions to scientific research without their knowledge or consent.