Archives by Date:
Archives by Subject:
March 21, 2009
Skloot's new weekly health and science column for Slate's XX Magazine
We're pleased to announce that, starting in May 2009, Rebecca Skloot will be writing a weekly science and health column for Slate's new Double X Magazine. There she'll be covering any and all science that might be of interest to women (note:  It won't just be science about specific female issues, rather science that interests women).
Please submit leads about interesting new science and medical developments or issues to this address.
Here, from Double X's website, is a description of the new magazine:
Double X is a new Web magazine, founded by women but not just for women, that Slate will launch in spring 2009. The site will spin off from  Slate 's XX Factor blog, where we've started a conversation among women–about politics, sex, and culture–that both men and women listen in on. The new site will take the Slate and XX Factor sensibility and apply it to sexual politics, fashion, parenting, health, science, sex, friendship, work-life balance, and anything else you might talk about with your friends over coffee. We'll tackle subjects high and low with an approach that's unabashedly intellectual but not dry or condescending. The blog will be at the heart of the site, but we'll also publish essays, reporting, and other features.
Named by more than 60 critics as one of the best books of 2010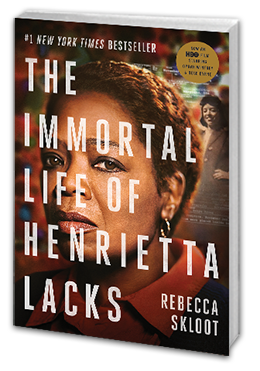 Buy the Book
Learn More
The Henrietta Lacks Foundation strives to provide financial assistance to needy individuals who have made important contributions to scientific research without their knowledge or consent.