Archives by Date:
Archives by Subject:
December 31, 2008
Assistance Monkeys, Ducks, Parrots, Pigs and Ducks … Should the law protect them?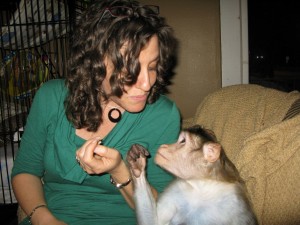 The New York Times just posted my latest feature, "Creature Comforts."
I've posted photos, videos and links below, but first, the gist of the story: When people think of service animals, they think guide dogs for the blind. But today it's monkeys for quadriplegia and agoraphobia, guide miniature horses, a goat for muscular dystrophy, parrots for psychosis and any number of animals for anxiety, including cats, ferrets, pigs, at least one iguana and a duck. They've been showing up in stores and in restaurants, which is perfectly legal because the Americans With Disabilities Act (A.D.A.) requires that service animals be allowed wherever their owners want to go. But now the United States government is considering a proposal that would force people to give up their nontraditional service animals because a growing number of people think the whole thing has gotten out of control. See full story for more. I'll be talking about the story on several radio programs, including NPR's Day-to-Day this Friday (click here for local times and stations). I'll also be posting follow ups here in the coming days, and answering questions if folks have them.
After the jump, I've posted about some of the specific animals whose stories I told in the article: Panda the guide miniature horse, Sadie the bipolar assistance parrot, and Richard the agoraphobia monkey. There are photos (including horse sneakers!) as well as video footage of Panda's training, and several links to more information …
---
Here is a video of Panda being trained to guide Ann around obstacles, and to get into a car:
---
---
Below, a photo of Ann and Panda riding around town in a minivan. You can read The Panda Reports, which explain how Alexandra used clicker training to teach Panda to guide, fetch, even ring a bell when she has to go to the bathroom.
---
---
Here is a different guide horse wearing sneakers, which happens sometimes. Ann Edie and several other guide horse users I spoke with disapprove of "Reebucks" and other novelty horse shoes because they believe (rightly so, I imagine) that such things perpetuate the image of non-canine service animal users as, well, unusual, and encourage others not to take them or their animals seriously (You can learn about other guide miniature horse users on the Guide Horse Foundation's website, which features a wealth of information, including a page devoted to the above mentioned horse cowboy boots, sandals, and sneakers).
---
---
Here is a picture of James Eggers whose assistance parrot Sadie helps with his bipolar disorder. There's a great photo of Jim and Sadie in the magazine, but this one shows how Sadie rides around in a special backpack built around her cage.
---
---
And here is a picture of Mojo, Homer Simpson's helper monkey* from the 90s, who was probably inspired by the Helping Hands capuchin monkeys who do amazing things for quadriplegics. I highly recommend watching their monkey college video.(*thanks Brendan! plus, mojo photocredit)

---
Update: Additional follow up posts with more photos and videos available here and here.
39 Responses to "Assistance Monkeys, Ducks, Parrots, Pigs and Ducks … Should the law protect them?"
Named by more than 60 critics as one of the best books of 2010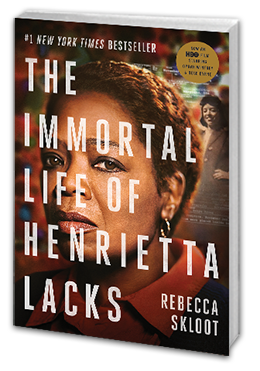 Buy the Book
Learn More
The Henrietta Lacks Foundation strives to provide financial assistance to needy individuals who have made important contributions to scientific research without their knowledge or consent.